Hotel Villa Rina
Hotel in Bormio
Hotel Villa Rina is run by the Gianotti family, the owner. From 1977 it has been a reference point for those who love staying in Bormio.
Discover the hotel
Hotel Villa Rina
Breakfast
At the buffet breakfast you will find fresh and healthy products, sweet and salted: numerous options that will give a delicious taste to your day.
Discover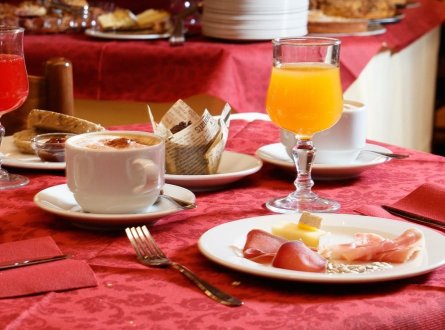 A perfect stay
I will be happy to return here. Very helpful staff, real professionals. Nothing was a problem. Varied breakfast. Loved that they have a bicycle garage with showers for when you come back from your ride. They also have a garden when you can relax and enjoy the outdoors.
Michal
booking.com
Will definitely go back
I stayed here for a few days skiing in the mountains. I could not recommend this place enough! Amazing and friendly owners. They were so welcoming and helpful. We stayed half board so breakfast was a buffet with a huge variety. The rooms were cosy and clean.
John
tripadvisor.it
Highly recommended
Loved this hotel! It is run by a local family who provide exceptional customer service and are so helpful. Breakfast is provided - a large selection of foods. The hotel rooms are clean, comfortable and a good size. Easy walking distance to the main centre of town.
Bronwyn H
tripadvisor.it
Compliments
Great selection at breakfast. It was rich and tasty. Whole premises was very clean. We had a whole apartment for our family of 4, spacious and comfortable. The staff was super nice and helpful. Everything was great. I totally recommend it!
Hannah
booking.com
Hotel Villa Rina
Hotel in Bormio
Hotel Villa Rina is your hotel near the centre of Bormio, in Valtellina. Excellent for a holiday full of sport, relaxation and wellness.